Gold might not be as hot of a commodity as is was last year when this set made it's debut on the sports card scene, but collectors (and speculators alike) are still gobbling up the precious metal in these uncertain economic times.
Speaking of uncertain times ... the basketball card market was certain fragmented and certainly had it's ups/downs during this 2011/12 NBA season. Most of the products came out after the season, and the real only driver of sales has been the rookie redemption cards - which could pay off big once Panini holds the random draft for the autograph versions.
Bring On The Gold Rush!!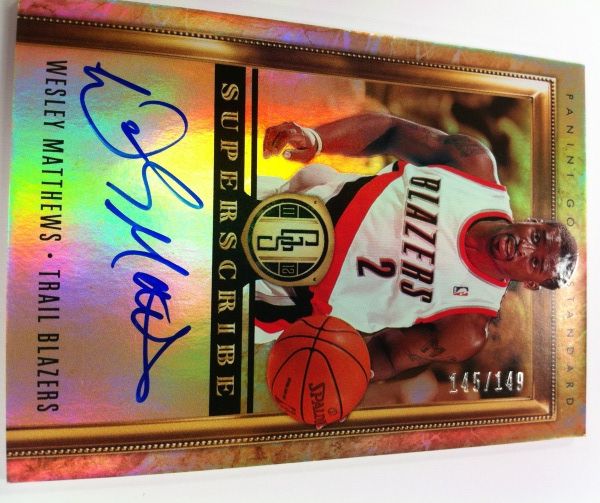 Maybe just what the basketball card market needs right now is a little bit of precious metal to make things a little more exciting. Certainly some of the early photos from Panini from Gold Standard has been impressive - however most collectors are not going to be too impressed. Boxes of this have an MSRP of $200 per box ... and with Panini having MAP (minimum advertised pricing) on all it's products, you won't see the price fall on a box of this for a while. Getting involved in group box breaks or just buying single cards of this product is probably the way to go - unless you really feel like gambling.
Some of the cards are really nice, including the Superscribe autograph cards. Given the timing of the release - many of these players are signing contracts with new NBA teams, so the Ryan Anderson autograph cards with Orlando, Jeremy Lin cards with New York and Steve Nash cards with Phoenix all look a little stale even though they just came out!
It also looks like Panini 'cleared some room' in the inventory closet - as you see some players like Shaquille O'Neal more often than in sets in the past. The autograph and jersey card sets look a little watered down to me as well .... with maybe Panini thinking it better save some materials for the much anticipated 2012/13 NBA season.
Like I said earlier, don't buy boxes of this for $200 unless you want to see them sell for much less about 6 weeks from now. Stick to single cards & box breaks and I think you'll have more fun. Sure, there will be boxes with Kobe Bryant and Larry Bird autographs - but the shortened season seemed to
cut some of the sizzle off the checklist
compared to the prior year. Good luck either way, really ... you can never loose opening sports cards & certainly can spend your money in more wasteful ways!